BEYOND YOGA - GINA PUCCINELLI
Promoting nourishment of the mind, body and spirit is my life's work. My gift is honoring the divine being within each individual by encouraging them to recognize their inner light and unique authenticity through daily self-care techniques and practices.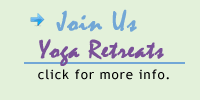 Since 2001, I have practiced as a Certified Yoga Teacher, as a Certified Massage Therapist since 1997, as a Medical Exercise Specialist since 2011 and was a Nutritional Consultant for Isagenix International 2011.
» Read Gina's REVIEWS on YogaTrail.com.
The "Beyond Yoga" retreats I have created offer a healing space for renewal, rejuvenation and personal empowerment. Beyond Yoga retreats take place natural, outdoor venues throughout the Monterey and Santa Cruz counties, as well as Yelapa Mexico, Yosemite, and Napa Valley. Each retreat provides sound yoga practice, guided meditation, mindfulness instruction, inspirational readings, yoga philosophy and Yoga Nidra. All are excellent environments for those seeking greater self-discovery and personal growth..